Put the Wireless Revolution to work for you...
In today's business environment with rapidly changing technology and increasing competition, the need for faster, more efficient communication and access to information has never been greater.
Managing the technology that delivers the flow of information for your workforce is a never-ending challenge. And, applying that information has become the critical component in growing and expanding your business—in determining success or failure.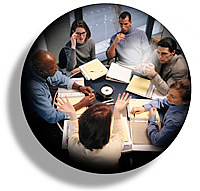 Questions are everywhere. Insight is not.
Only New Millennium Consultants has the technical knowledge and practical experience to provide independent, objective, actionable recommendations for businesses to:
Create the communication infrastructure that integrates people and information to meet current business plans and goals
Refine and develop new business plans that capitalize upon new opportunities in the constantly changing marketplace
New Millennium Consultants is your communications partner. Our years of experience and thorough understanding of communications networks enables us to facilitate the management of your business communications and information systems.
With New Millennium Consultants you say ahead of the technology curve and strengthen your entire business. That means…Greater Productivity…Great Responsiveness…Customer Retention…Savings in Cost and Time…and, being Future Ready as technology continues to advance at blinding speed.
Integrated Solutions
New Millennium Consultants provides clients with 2 primary consulting services and a number of related services.
Wireless Audits
Wireless services are confusing. Add to that the need to integrate email with laptops, PDA's and remote access while avoiding hackers and maintaining a secure network and the challenge can be overwhelming.
New Millennium Consultants was created to help clients through this complex maze. We've been in the wireless business since the very beginning. We cut through the jargon and decipher the best option for your business.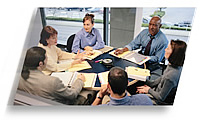 And, we assist in integrating the wireless network with your information technology system to provide real-time information while your workforce is mobile and fluid to meet customer needs.
As an independent 3 rd party, we have no vested interest. Through our proven process of analysis, planning & review, we identify the right products, the right services and contracts, and recommend the right solution.
Our clients save time, save money, and enhance productivity.
Global Business Development Planning
Effective business plans are always critical in providing direction for businesses of any size. Without objective planning, businesses are at the mercy of an unforgiving business environment.
New Millennium Consultants collaborates with clients to help them find unique solutions for building and growing their businesses. We help clients pinpoint markets and riches that can be successfully served. Then, we outline tactics and programs to effectively penetrate new markets, increase sales to existing markets, and achieve profitable growth results.
Once again, as an independent 3 rd party, we have no vested interest with equipment manufacturers or service providers. And with our breadth of experience, we can view the competitive arena in ways that may never have been considered.
Our clients enjoy a challenging and proactive planning process and contingency plans to address those uncontrollable variables.

Other Professional Services
As a by-product of the substantial business experience of our staff, New Millennium Consultants has successfully assisted our clients in a wide range of support functions. We've managed marketing research assignments; evaluated new product and market potential; and, even secured venture capital for a new global business.
New Millennium Consultants can be a valuable resource for virtually any business and marketing need that our clients encounter.
Technical Expertise. Practical Knowledge. Proven Performance.
Only New Millennium Consultants has the technical knowledge and the practical know-how to provide independent, objective, and actionable recommendations.
For a quarter of century, the seasoned professionals at New Millennium Consultants have successfully provided creative, yet practical solutions to business problems and challenges.
Our elite Team has maintained an unprecedented success rate. They have earned a reputation for recommending business solutions that are firm enough to be effective, yet flexible enough to evolve as conditions demand.
New Millennium Consultants can extend and enhance your company's resources so that you can…
…grow your business faster
…improve productivity
…be more responsive
…gain and retain more customers
…and be future-ready for the next technological innovation
Whether you need a hard look at your current communications network or creative alternatives for a new business development plan, New Millennium Consultants is ready and available.
Learn how New Millennium Consultants can help your business today.
Contact Us and we'll take it from there.