Welcome!
New Millennium Consultants provides highly specialized services for clients in the Wireless Communications Industry.
With in-depth knowledge of the industry, we ascertain the best solutions for wireless dealers, wireless service providers, and major corporations.
Assigning an elite group of skilled professionals to each clients project, we utilize our expertise and industry contacts for optimal performance. Quickly assessing the parameters of our client's needs, we perform precise services resulting in highly effective programs, analysis, and marketing research. We offer strategies robust enough to stand out yet flexible enough to evolve as conditions demand.
We welcome both retainer and project-by-project working relationships and approach each client as a well-respected friend.
On our client's behalf, we tactfully mediate and negotiate discussions with groups both internally (within our client's organization) and externally (outside our client's organization).
Having been in every corner of the industry --- marketing, distribution, new markets, new business, sales, service providers, carriers, hardware, software --- throughout the world, we know the major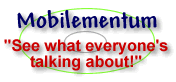 players. We know what people demand. We know how to cut through the red tape and to get to the answers. We know how to create an original and resilient value proposition and how to align an entire company.
We are a small, poised and highly trained ensemble of professionals. We quietly go in and get the job done. The only trail we leave is a trail of smiling faces.